After helping out a friend , Erik Johansson, with his build of a new workstation for his amazing surreal photography projects, I finally built my own as well – but with a slightly different approach.
Of couse I wanted it to be powerful but I wanted a machine that's still somewhat portable and therefore small BUT with a fullsize graphics card nonetheless. Besides using it for retouching and postprocessing my photographs I also need it to render 3d and especially video encoding (like this video I did talking about my build ;-))
First things first – the last two years I have been working fulltime on a workstation notebook which was quite powerful but for next year and beyond I need something that has more power nonetheless. After carefully planning out my new build, reading some benchmarks, other blogs and builds, I reached out to different manufacturers for computer parts and asked if they would support me on my adventure of building a workstation myself. Lucky as I was they did (yaaay!) – the parts of this build have been given to me, yet I haven't been paid to sugarcoat anything nor to talk anyone into buying those parts. I'm just upfront and therefore I'll label this therefore as "Ad" in the video when parts are shown. Not more, not less, have fun reading and watching!
Parts:
Dan A4 SFX Case (black) v3
Ryzen 3700X (Socket AM4)
Noctua L9a Low Profile Cooler
ASUS x470-I (AM4 compatible with new bios)
Corsair LPX Vengeance RAM (2x16GB 3200Mhz)
Corsair SFX 600W
Powercolor 5700XT
Custom Cables Pslatecustoms
SSD (2,5″ 2TB) Seagate Barracuda
self 3d-printed fan duct for air-intake (and silence!)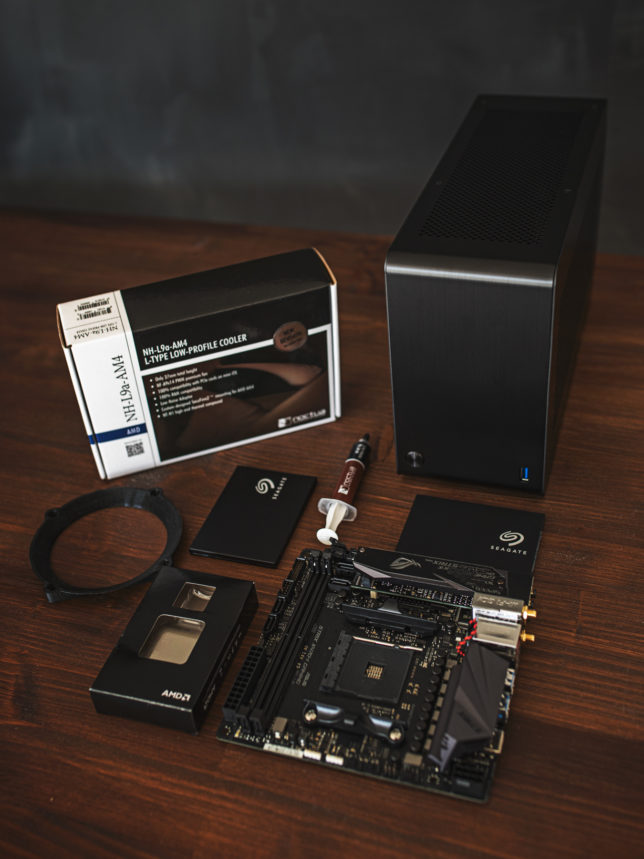 30dB in idle, 40dB when under load (e.g. rendering) and 49dB when all fans spin at max for quite some time and the PSU fan spins as well (therefore everything producing a lot of heat inside the case). For me this is super acceptable, when idle I barely hear anything which is pretty awesome for working and when I'm playing games or rendering, I most often am using my headphones anyway and even if not, 49dB at max is not that loud actually. I'm absolutely sure you will get that CPU completely silent as well in a bigger case and with water cooling or a big Air Cooler as well.
When we build this, we had to upgrade the BIOS on the Mainboard because the new Ryzen processors run on most older AM4 Mainboards as well (which I think is really nice since you can upgrade pretty fast from your older ryzen to the new generation) – BUT you have to update the BIOS version and for that you need an older CPU (which you have when you want to upgrade your system of course). So when buying a new one make sure the board has the new bios, OR – which I think is pretty cool – you can loan a 2nd gen Ryzen from AMD directly to do that yourself and then send it back ( https://www.amd.com/en/support/kb/faq/pa-100 ).
When first booting up I had a Ryzen 2700 on the board to update to the most recent bios version which supports the 3700X. It was fairly easy and went quite smooth, after that I replaced the 2700 by the newer one and repasted the cooler, installed everything in the DanA4 SFX Case.
Also what I can really recommend from this build is: Always test all your hardware at first outside of the case, build everything, boot it up, maybe even install the OS. because it takes quite some time and effort to get everything out again or find a faulty part if there is one and your pc is not booting up, these SFF builds are not necessarily made for constantly taking them apart and put them back together FAST 😉
After Installing the OS: We did some adjustments after installing the OS, like enable XMP for RAM timings so that the LPX can run at the 3200Mhz that the Ryzen 3700X supports (make sure to run memtests for stability though!). Other adjustments once could actually try are undervolt the CPU for keeping it even more quiet and less hot (but losing some power), it's not necessary but IF you try, make sure to run some stability tests afterwards to not have your system crash one day surprisingly – IMPORTANT!
Additional Thoughts: With Nvidia releasing their pro-driver to their consumer cards as well, they become a pretty good (and even not THAT expensive) alternative to pro cards like the Radeon Pro or Nvidia Quadro series. For everyone not working heavy CGI work, I personally (!) don't see any reason to go for the pro-series any longer, especially if you "only" want and need 10-bit output in Photoshop.
Also from next year on it will be fairly easy to get your hands on 32GB RAM sticks, so 2x32GB=64GB in that workstation will definetily be something to think about and discuss, let's see what we end up with, for now 32GB suffices but I'm sure in the near future we will upgrade to 64 at least.
As far as connectivity goes I'm happy with what I have, the 6 USB slots on the back as well as the one in the front provide me with everything I need at the moment, which is:
Mouse and Keyboard (illuminated) connected via my Eizo Monitor
Card Reader connected directly to the workstation
external HDD connected directly to the workstation
Wacom Intuos and tobii eyetracker directly connected to the workstation
Wifi build in (if needed)
Ethernet for connecting to my router and for working on my Diskstation where I store my footage
For future use I might add a powered USB-3 Hub to my desk so that I can use this for harddrives separately
Thanks for reading, and if you've got any questions don't hesitate to drop me a line via email or any of my socials of course!